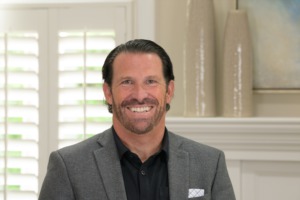 Hi!  I'm Jamie Craft.
I was born in Southern California and still have surfing in my blood, but after living the last 25+ years in the Charlotte / Matthews area, I can also say that I am just as much a native of the Carolinas.   
 I have lots of interest.  I love American history and spend a lot of time collecting and reading books about it.   I am also a sports nut.  I was fortunate enough to play football during my college years and to this day I enjoy a great workout.  I have carried that love of football into my adult life as a football coach and trainer for youth players.
 My professional experience is quite broad.   I have worked as a Charlotte Mecklenburg Police Officer and owner of a fencing company.  I previously owned a Burn Boot Camp which always kept me active in the training and coaching field. 
I consider myself to be pretty good at balancing things. You have to when you have 7 kids.  Yes, 7 kids.  5 boys and 2 girls.   And 3 grandkids!  We are a pretty tight family and do a lot of fun things together. 
I came to real estate a little bit later in life, but have always loved it!  It just took me a while to get here.  And I have confirmed that I do love it. I enjoy the challenge of getting a property ready to market as well seeing a smiling face of a new homeowner.