6 Reasons Why YOU Should Attend an Open House in Charlotte this Weekend!
Posted by David Huss on Saturday, April 29, 2023 at 6:33:51 AM
By David Huss / April 29, 2023
Comment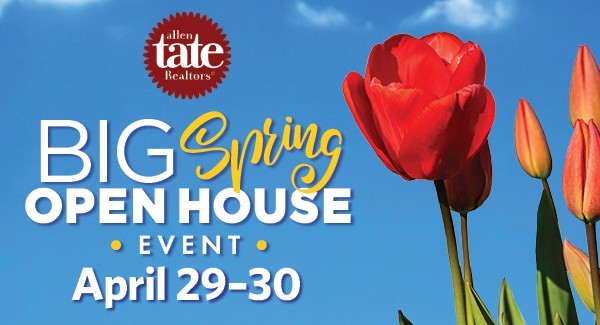 Attending a handful of open houses might be one of the smartest decisions you'll make during the entire home buying process. That's why many Allen Tate agents plus the Huss Home Group will be out this weekend to open the doors for you.
Besides the fact that you'll get to check out tons of homes in various price points, walking through open houses before you start your home search allows you to pinpoint exactly what you're looking for— so when you're ready to buy, you'll be able to make an offer quickly.
Not convinced checking out some open houses before you buy is worth your time? We've got 6 reasons it is.
6 reasons to attend an open house
Reason #1: You'll know exactly how much you can afford
Perhaps you've got your heart set on a specific neighborhood or certain location. Attending a couple open homes in your desired area will give you a good idea about how much you'll need to spend to be in that location.
Reason #2: Learn exactly what you want
You know the saying, "You don't know what you don't know?" Nothing could be more true when it comes to buying your first home. At the Huss Home Group, we have seen this play out many time as top real estate agents in Charlotte.
Before you look at homes you might think a certain square footage is adequate or think you only need 3 bedrooms. Additionally, you might have opinions about things like floor plans, garage size and whether or not the home has a fireplace.
It's likely that during the home search process, as you step into more and more homes your wish list evolves. Walking through a good amount of open houses before you get really serious about home buying allows you to continuously retool your desires when it comes to your new home.
Attend an open house in your area with our Open House Event, this Saturday and Sunday!
Reason #3: You won't rush into a home purchase
Even with the market returning to normal, we're still in a seller's market— which happens when inventory is low and demand for housing is high. And many times, when a house comes on the market in a desirable area and price point, it's likely to get snatched up quick.
And sometimes, buying a home in haste can lead to buyers' remorse— a recent study found that almost half of all homebuyers, and a whopping 66% percent of millennial homebuyers have buyers' remorse when it comes to the purchase of their home.
But guess what?
If you do your homework ahead of time by attending open houses and continuously refining your wish list, you won't have buyers' remorse because you'll know exactly what you need and want. You'll be able to make an offer quickly and confidently when the time comes.
Related reading: Three things you must do before you buy a home
Reason #4: Take your virtual search offline
Modern technology is great, there's no argument there, but there really isn't a replacement for seeing something with your own eyes. As top listing agents in Charlotte, we know that we can use the camera to highlight the best of a home and not show you the worst. We see it as buyer agents in Charlotte that when we take buyers to a property it can be discouraging when they have high expectations and get a let down.
Arguably, one of the most helpful reasons to view multiple homes in person is to get a good idea about what different home sizes, and more specifically, square footage, actually looks and feels like.
And after viewing some homes, you may find you can live with less space or you may need to bump up your square footage requirements.
Reason #5: Get a good feel for the neighborhood/surrounding area
If you have small children and you're seeking a neighborhood filled with kids, don't wait until moving day to realize you've moved into an older community.
There's no better way to check out a neighborhood than to attend an open house in one. While you're there, ask the realtor to give you insight on the area. Are you looking for a neighborhood with a lot of amenities?
Perhaps you're seeking a more peaceful environment, or are looking for a community filled with young families. Whatever you desire, talk to the realtor at the open house about your preferences and even take some time to walk through the neighborhood to get a better feel for the area.
Reason #6 You might find the perfect real estate agent
Even if you're just in the beginning stages of the home buying process, it's never too early to enlist the help of an Realtor. If you don't have one, attending an open house is a great way to find one.
By dropping in at an agent's open house you'll have the opportunity to meet them, so be sure to strike up a conversation. Be sure to exchange information if you have a good connection.
Items to think about as you attend open houses
Be sure to Check out Huss Home Group team members Cindy Ransone and Kimberly Johnson. They will be holding open our listing at 5341 Orchid Bloom Dr. Indian Land, SC on Saturday and Sunday from 1-3.
Find an open house in your area with our Open House Event, this Saturday and Sunday!
* Content provided by Allen Tate, Realtors with edits by the author.