Is a 55+ Community Right for You?
Posted by David Huss on Wednesday, October 18, 2023 at 8:45 AM
By David Huss / October 18, 2023
Comment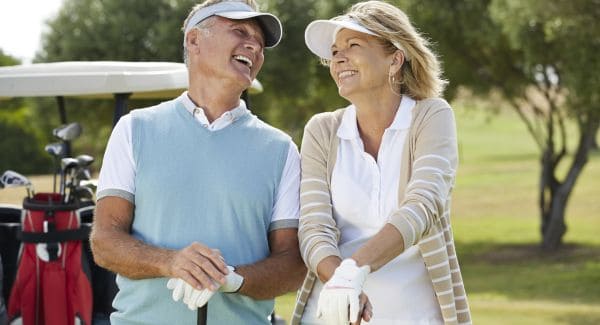 If you or your spouse are 55 or older and are searching for a home that feels like a permanent vacation destination, a 55+ community might be what you need. Also known as active adult communities, these 55 and up communities are designed to support an active, healthy lifestyle while allowing residents to age in place. Thinking about downsizing in the future? Here's everything you need to know about a 55+ community.
Designed to allow residents to age in place
Homes in active adult communities are typically smaller, giving those seeking less upkeep the option of downsizing. Typically, these communities offer a variety of housing options, from condos to townhomes, apartments, and even single-family homes.
Built with aging in place in mind, homes are built with universal design principles for maximum functionality. Some common items you might notice with homes in 55+ communities are no step entries, one-story living, easy-to-reach cabinets, wide doorways and hallways, extra space in living quarters and bathrooms, curb-less showers, and more.
While most 55+ communities meet active adults where they are, it's worth noting that most residents will ultimately have to move again in their lifetime, as these communities aren't set up for the additional assistance needs that typically come as you age. For those looking to stay put, it's worth checking out a community that offers many levels of care within the same property so that you can initially start off in an independent home and easily move as your assistance needs increase.
Amenities galore
While no two active living communities are alike, one can expect no shortage of amenities when house hunting in a 55 and up community. Everything from tennis, golf, pickle ball, lakes, walking paths, gardens, aquatic centers, and even casual and formal dining may be available. Depending on the active living community, you might either pay an initial amenity fee or be assessed an HOA fee monthly that covers lifestyle amenities. HOA fees in 55+ communities tend to have a wide range, so it's best to factor this in when making your budget.
No more maintenance
One of the more challenging things to tackle as you get older is keeping up with the ongoing maintenance of owning a home. When you're living in a 55 and up community, the tasks that once seemed impossible to tackle—whether it be fixing a leaky sink or keeping your lawn maintained—will be a thing of the past.
Home prices are often lower
With a smaller buyer base due to age restrictions, you will often find that 55+ communities are very affordable. However, as a general rule, the more amenities offered, the higher the home prices and/or HOA dues, so factor this in mind when searching for a home within an active living community.
Safer environment
Typically built with the safety of residents in mind, 55+ communities often feature gated security, and some even have security officers on duty. Beyond gated entry, due to the nature of these close-knit communities, residents often feel at ease living here as they age, enjoying the fact that community members look out for each other.
Pros of 55+ communities
Some communities offer a cheaper cost of living
Ample amenities
Enhanced security measures
Low-maintenance living
Properties built with universal design
Quieter community
Cons of 55+ communities
No on-site healthcare
HOA fees can be steep
Convenience items will still need to be purchased off-site
Homes are smaller
Where to Look In Charlotte For 55+ Communities
Probably the best known is Sun City Carolina Lakes located in Indian Land, SC. It is a Del Webb commuity with 3500+ Homes / Townhomes / Condos has lot of amenities plus clubs and other activities. There are many others in the metro area like Cresswinds, Trilogy at Lake Norman and others. Also, keep your eyes open in 2024 for Carolina Riverside by Del Webb which will be located in Belmont at the South Fork of the Catawba River.
Senior Real Estate Specialists David Huss is here to help
Top Charlotte Real Estate Agent David Huss is certified as a Senior Real Estate Specialist by the National Association of Realtors. It is an immersive class in the needs of seniors and the many impacts a home decision. David is also familiar with the varoius communities and some of the things to consider wtih each. Contact us to get started today.
This blog post is compliments of Allen Tate Realtors with edits by the Top Realtor in Charlotte, NC David Huss.