New Construction Sales Rising in Charlotte Area
Posted by Missy Banks on Wednesday, July 15, 2020 at 8:57 AM
By Missy Banks / July 15, 2020
Comment
The newer the better -- nationally new construction sales are gowing a pace second only to the unprecented growth in the housing boom of 2005. Lack of housing inventory, low mortgage rates and buyers looking for high tech homes to accomodate learning and working from home in a subrub setting have fueled the sales.
The national trend can also be seen on the local level in the Charlotte region. The chart below shows new construction sales (closings) in Mecklenburg, Union and Gaston Counties all up almost 40% from this same time last year. Sales took an expected dip in May (fewer sales in March/April due Covid) of this year but then the trend line goes up just as the national trends do.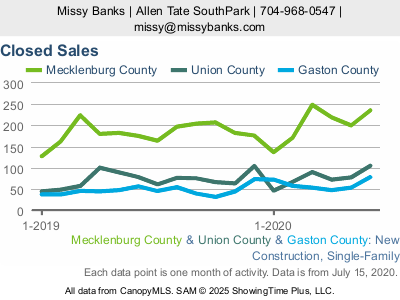 The hurdle for builders will be whether or not they can keep up with the growing demand for new homes. In the Charlotte area, land prices remain high, as does a decrease in the labor pool after the last housing recession and building supplies are at an all time high. Despite this, buyers still like new homes and are willing to pay the price. New homes means the latest in technology, efficiency standards, design trends and floorplans -- and not to mention there is sonmething about new everything!
If you are looking for new construction in the Charlotte area check out these links:
New Construction Mecklenburg County
New Construction in Union County
New Construction in Gaston County
If you want the features and convenience of a new home, you are not alone. The trend is consistent nationwide and the current Covid-19 pandemic has not stopped buyers from buying their dream NEW home. Take advantge of the historically low rates and let Missy connect you with a builder in the Charlotte area. You can reach Missy Banks at 704-703-9925.