These are the most walkable neighborhoods in Charlotte
Posted by Missy Banks on Tuesday, September 4, 2018 at 11:10 AM
By Missy Banks / September 4, 2018
Comment
You may have heard that Charlotte, NC is not a particularly walkable city, but that's old information! The city and county are improving walkability tremendously, and there are plenty of neighborhoods that provide excellent opportunities for those fond of walking. Below, we'll tell you what's being done to increase walkability in the city and guide you through your choices of the most walkable neighborhoods in Charlotte, NC.
Improving Charlotte NC Walkability
Mecklenburg County has built an elaborate greenway system to promote the health and sustainability of the city of Charlotte. It is currently 49 miles of natural walking, running, and biking space, and more is added to it every year.
In 2017, Charlotte initiated its Charlotte WALKS pedestrian plan to make more of Charlotte a "safe, useful, and inviting" place to walk, and the greenway link above contains a list of the many other trails and biking paths in the works in and around Charlotte. With all of these changes, the walkability of all Charlotte neighborhoods is slated to increase.
The Most Walkable Neighborhoods in Charlotte NC
Matthews is a lovely historic suburb that is also rapidly growing, so you can enjoy old town atmosphere and opportunity at the same time. Right now, there are several breweries, bbq spots, a farmer's market, an old-fashioned hardware store, and a coffee shop in easy walking distance from available homes.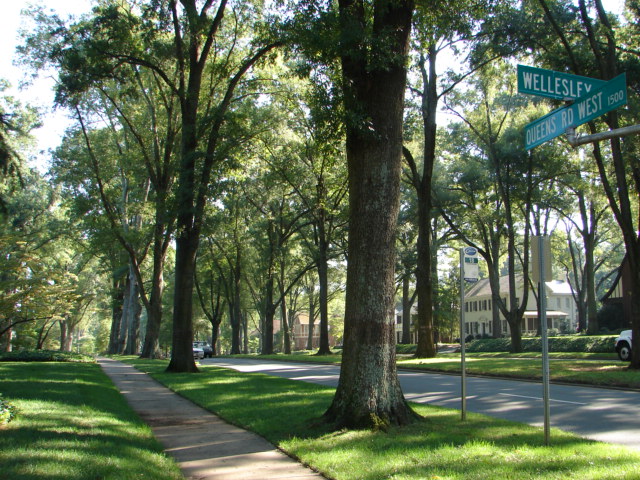 It doesn't get any better than walking one of Charlotte's iconic and oldest neighborhoods -- Myers Park. Tree lined streets and sidewalks are prevalent throughout Myers Park. Streets in Myers park form a path called the Booty Loop. it is used by cyclist, joggers and walkers alike.
Dilworth is a lovely historic suburb, one of Charlotte's oldest, that combines scenic walks with convenient access to restaurants, shopping, and groceries. Because it was built to accommodate foot traffic to street cars, it is perfectly suited to great walking.
The Sanctuary at Lake Wylie is a lake community 14 miles from the center of Charlotte with a wealth of athletic opportunities in the amenities list, including 20 miles of walking trails and seven miles of shoreline.
Uptown Charlotte is a vast area filled with so many varied businesses and opportunities that it is quite reasonable to walk to a park, grocery store, nightclub, and a ballpark. You can walk to pretty much anything you could want.
NoDa is the most prominent artist district in Charlotte, able to boast art galleries, a YMCA, music venues, restaurants, bars, and light rail stations all within walking distance. Similar to NoDa, Plaza Midwood is also a hip locale with access to many types of businesses, you know grocery stores, restaurants, and pubs, and as well as a park.
Elizabeth offers many shopping options, is a lovely place to walk, and boasts a dog park so you can treat Fido as well. It's also near Uptown, extending convenience and walkability.
Ballantyne provides walking opportunities to a cinema, restaurants, and golf on landscaped, boulevard-width streets. It's not quite as close to the necessities as the others, but does bear mentioning for recreational or athletic walking more so than transportation.
You should also consider new and up-and-coming walkable neighborhoods:
· Cherry
· Ayrsley
· South End
Don't rule out Charlotte if you're looking for a future that includes walkability. Uptown is one of the most walkable downtown areas in the South, Charlotte has big plans to address its problem areas elsewhere, and the many highly walkable neighborhoods provide plenty of convenience and athletic opportunities.
Written by Missy Banks of HousesofSouthCharlotte.com and Allen Tate Realtors. Missy is a full time real estate professional and a top relator with Allen Tate and the Charlotte area. HousesofSouthCharlotte.com is a user friendly real estate search tool with update MLS listings.
Let Missy Banks help you with your real estate search! 704-968-0547